Walden Local Meat membership means supporting a system of agriculture where the farmer is not only paid a living wage, but they are also able to sell the whole animal they raise. We're a whole animal share, and we work hard to ensure that we balance valuable and interesting cuts across our entire member base. Because of our unique whole animal program, you as a member surely receive cuts that you are less familiar with. One cut we get many questions about is beef shank, so we gave our resident "braiser praiser," Melissa (yes, that's really a title she won), the opportunity to win you over to the pro beef shank party


MELISSA ON BRAISING
Tender. Flavorful. Easy. Yes! I'm talking about beef shanks!
Most of us are taught to believe that "tough" cuts of meat are less desirable than the most "tender" cuts, and yes, the pleasure of enjoying a well-cooked, delicious steak with loved ones is one reason we're Walden members. But look outside that narrow category of the most tender beef (which accounts for only 5-10% of the meat we get from a cow), and your methods of cooking (and the meals you serve), will change for good.
Beef shanks come from the leg of the cow, a hard working group of muscles. That means they're full of collagen that breaks down over time in low and slow cooking methods (like braising!). That collagen is full of a rich flavor that is especially unique and delicious coming from our grass-fed and finished beef. Add in the bone marrow of the shank and you've multi-tasked your way into a wonderfully rich broth-based sauce.
As one of our most under-appreciated cuts, I've been on a mission to educate our community about the merits of the earthy, complex flavors of this high quality cut of meat. You likely have everything you need in your pantry right now to start a hearty, nutritious meal that will come together easily and impress everyone. As for method – there are far more recipes out there for short ribs than beef shanks, a.k.a. "Osso bucco." Don't let this stop you! Surely my most repeated phrase at Walden has been "did you know you can use beef shanks in most recipes that call for braising bone-in short ribs?*"
At Walden, we are mostly fervent home cooks. We cook in ways that highlight the quality of the ingredients we source and welcome the challenges of working with cuts that are new to us. We experiment. We iterate – and we want to share the results with you, our members**. We're a group of foodies, passionate about our environment, the people involved in changing our food system, and feeding our friends and families meals that nourish the soul. We thank you for being on this journey with us!
– Melissa and all of us at Walden
* This has, at least, been my own experience – if you find otherwise, please let us know!
** Hear from more Waldeneers, and your fellow Walden members, on our community forum, at community.waldenlocalmeat.com


TANGY BRAISED BEEF SHANKS
This is the recipe that changed things for me. The original directions call for bone-in short ribs, but I've found this is equally, if not more, delicious when prepared with marrow-rich beef shanks.
Ingredients
4 pounds bone-in Walden beef shanks
Kosher salt and freshly ground black pepper
3 tablespoon vegetable or canola oil
2 large yellow onions, quartered
2 heads garlic, halved crosswise (papery skin may remain intact)
3 tablespoons honey
½ cup apple cider vinegar
½ cup soy sauce
4 cups beef broth
4 thyme sprigs
1 lemon, halved, for juicing
Optional: add carrots or diced tomatoes to braising liquid before Step 6
Instructions
Preparation: salt beef shanks for 1 hour at room temperature (or for more time in the fridge)
Preheat oven to 300* F. Brown beef (no need to cut into smaller pieces) in dutch oven or heavy pot over medium heat in 1 tablespoon of oil, ~5-7 minutes each size (working in batches). Remove meat from pot. Scrape out any charred pieces
Add 2 tablespoons of oil to pot. Add onion and garlic. Cook over medium-high heat until slightly browned, 4-5 minutes. Add honey and cook ~2-3 minutes, until it starts to bubble, scraping the bottom of the pot.
Add soy sauce and apple cider vinegar. Simmer and reduce by about half, for ~5-8 minutes
Add broth and thyme and bring back to a simmer. Season with salt and pepper to taste, and add back in all meat (and any optional vegetables).
Cover pot and place the oven for at least 3 hours. Leave alone in the oven for all three hours!
Remove cover, increase oven temperature to 425* and let the meat brown for a bit, ~30-45 minutes.
Squeeze lemon over beef. Serve with rice, couscous, or quinoa.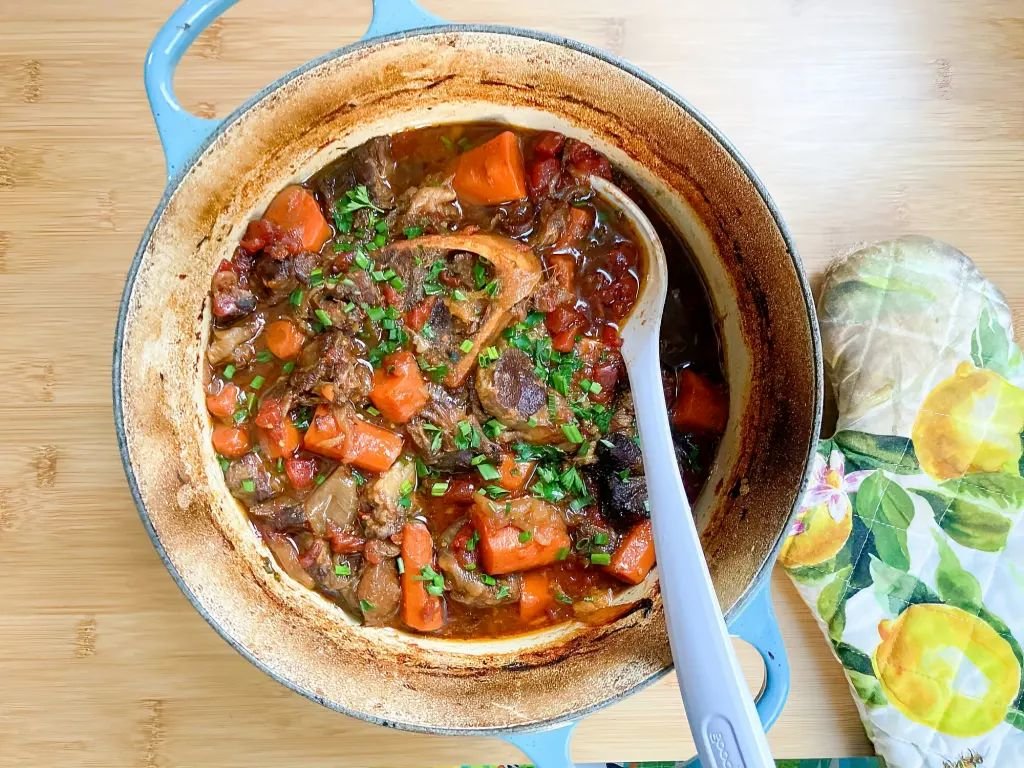 Melissa's finished braise!
Source from NYT Cooking